Shadow Mickey
Information
Species:
Mouse
Gender:
Male
Color(s):
White and Black
Starting location:
Storage Room
First appearance:
Night 2 Unofficial
Shadow Mickey is the shadow variation of Photo-Negative Mickey.He appears as a Easter Egg in Five Nights at Treasure Island.
Appearance
Edit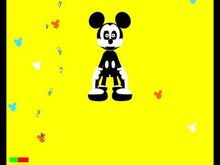 His appearance is like the original Mickey Mouse but his body is painted in a white color, he also has two black dots for eyes.
Behavior
Edit
He can rarely appear in the Storage Room with his face on the camera, while he is in there you can hear a distorted voice in the background, staring at him for too long can make the game crash.You can also see some hallucinations of him while playing the game, one of them is a picture with a black background, he will be in the middle of the picture with his arms open and a text in the top saying WE WERE ABANDONED.When seeing him in the storage room you have to change to another room to make him go away.