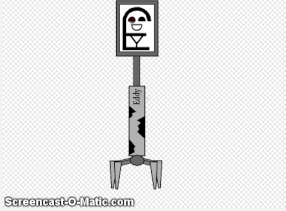 Description
Edit
Eddy is a Computer System That Originated From Lab Rats. He Appears On Night 4.
Eddy Was Built When Treasure Island Was Still Opened.
Appearance
Edit
Eddy Has His Normal Appearance In Lab Rats. The Only Differences Is That His Left Eye Is Black While His Right Eye Is Glowing Red And Has A Body With His Name On It and Has Four Legs On The Bottom. his body also seems to be damaged.
Locations
Edit
Eddy starts in the Meat Freezer then he will move to the Showcase Room then he can move to the Suit Workshop, the Lounge, The Janitor's Closet, and the Staff Area before going to the office.
He is not active until Night 4. when active. he will say the following things.
"You Will Pay"
"Hello"
"I See You"
"I Know How To Get Rid Of You"
"Your Not Going Anywhere"
He Can Sometimes Cause Candlehead To Be Active When Moving.
His Shade Has Red Glowing Mouth And Eyes And Has Spikes On Both Sides On His Body.
He will have a blender design.
he has no arms.
His 4th and 5th Quote Was Rip Straight From Lab Rats. Just Distorted With Static.
Community content is available under
CC-BY-SA
unless otherwise noted.