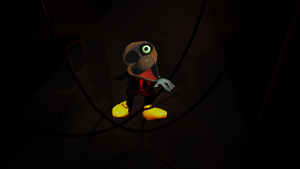 Please read this before moving on!
'''This Page belongs to User:Haxguy Le Fox'
This article is owned by User:Haxguy Le Fox, if you wish to edit this page, please ask him on his wall before editing, if you edited without permission, it will be undone
The Decimated Mickey is an antagonist in FNATI 2: The Magic Kingdom. "It" is one of the three suits that was shipped to Magic kingdom, and was attempted to fix but failed miserably. The Soul of the infant and the father still remain inside "it"..... Decimated Mickey is THE FACE
Appearance
Decimated Mickey

Information
Species:
Mouse
Gender:
Male
Color(s):
tan, red, black, yellow
Starting location:
Suit Storage
"It" is a Mickey Mouse Suit from the 1960's, but rotting away. It has a human eye in his right eye socket, his buttons are melted into the sides, his eyebrows are still remaining, he is missing his left arm and his right hand, and he is dirty.
Behavior
TBA
Trivia
. His apperance is somewhat to Nightmare PN Mickey from Nightmare Before Disney . he is the only character who i tried to bring back a photoshop twice . Beta 2.0 Decimated Mickey was photoshopped from Photo-Negativemickey's model of Nightmare PN Mickey
. When he enters Character Prep 2 On (BETA 2.0) he is bigger than the cam.
Community content is available under
CC-BY-SA
unless otherwise noted.