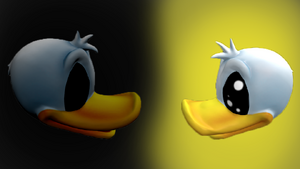 But now... They are CUTE
This Page has characters which are not scary
Because of the nature this character, It may not fit correctly in a creepy roleplay
Don't expect this characters to get scary, and don't forget to ask permission before use.
Adventure Disembodied is a protagonist in FNATI World.
Appearance
Disembodied looks like Disembodied but the beak is more cubical, the eyes have shine on them and the hairs in his forehead are bigger. He is able to move his beak and move his hair. Sometimes he wears a sailor hat.
Abilities
To The Office: Disembodied goes to the enemy, acting as a shield for the whole team.
Quack: Disembodied does a loud screech that stuns enemies, and gives some health to the team. This ability can only be used Once To The Office has been used.
Stare:
Disembodied stares at the enemy, causing a moderate amount of damage.
(The images will get filled slowly.)
Community content is available under
CC-BY-SA
unless otherwise noted.