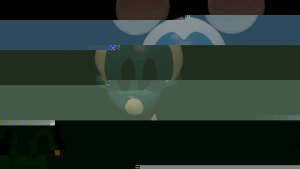 Whoa there! Read this before proceeding on!
'''This Page belongs to User:Photo Negative Mickey'
This page belongs to the User:Photo Negative Mickey, which you cannot edit this page without his permission, get permission from him if you want to edit this page, or your edit will be undone. If you want to use these images for OC reasons, ask permission. Thank you for reading!
Description
Abandoned Suicide Mouse was once one of the Spare Suits which was used while the Original ones got repaired, but anyone who had gotten in the suit nearly couldn't get out the suit due to it's possessions.
Abandoned Suicide Mouse

Information
Colour(s):
Grayscale; Bright Pale
Species:
Mouse
Starting Location:
Suit Warehouse
Gender:
Male
Gets active on:
Night 3
the Abandoned Suicide Mouse suit was once used as the SteamBoat Willie suit, but was scrapped as the newer Mickey suit came in.
Appearance
He is based of his normal Self, except he is all dusted and more pale.
In his right eye socket, he has a blood red eye.
Unlike his Shade form, he doesn't have blood round his body.
Trivia
Only his shade form has both blood red eyes.
This character is only an easter egg, which when active, a demonic like music box can be heard.